Summit Hill Foods Brand Launch Video
When one of our longest customers asked us to help in a major company rebrand, we were enthralled. Southeastern Mills, the creator of brands such as Better Than Bouillon and Louisiana Hotsauce, came to us seeking creative help for a company name change and rebranding. In the era of Covid-19, nothing was short of a challenge though it was a challenge we were willing to accept.
Script Development

Film

Video Production
Video Editing

Story Boarding

Graphic Design
Southeastern Mills is a leader in the foodservice industry in areas of production and custom solutions. For nearly 80 years, they have been ruling the industry for their products such as Better than Bouillon and Louisiana Hot Sauce, and have since become a global company. They came to us with a dream to continue to evolve their brand and a very large pandemic in their way.
Back towards the end of 2019, Southeastern Mills asked us to help with what they called "Project Evolve" by creating a timeline video. This would be a series through their dense history in order to set the stage for the progression of where they are heading. The plan was to announce the company's name change by the first quarter of 2020 at a large company-wide conference. The timeline video would be shown at the beginning of the new name announcement. And then Covid-19...
One of the biggest challenges that we faced was overcoming the new working environment that covid-19 brought. The company-wide conference of hundreds of employees quickly turned into a virtual conference, and our timeline video turned into the production of the whole announcement process. We had to navigate CDC guidelines and social distancing practices to film key members of the Southeastern Mills team, including the CEO, announcing this new chapter in their company, and put it all together into one video.
Another challenge we faced was how quickly things started moving once a decision was made about how they were going to move forward with the brand launch process. We endured a waiting season until we heard back and then had less than one month to endure this new project from scriptwriting to final production.
We were to create a video that showcased Southeastern Mills' rich history while transitioning into the new chapter they are about to embark on with a name change and company rebrand. The goal was to take what was already created with the previous timeline video and use it as an introduction piece to a video montage of key Southeastern Mills employees explaining the process of selecting the new name, ending with a dramatic reveal. It was to bring up historic sentiment while creating overwhelming excitement for the new name of Summit Hill Foods.
A successful outcome would include being able to seamlessly and safely get all key speakers together on the same day to film many takes while remaining socially distanced and following all CDC guidelines in leu of Covid-19. The goal was to have a small footprint with a single day of filming. With a small timeline window, we needed to put the video pieces together quickly and harmoniously. We were to work collaboratively with the Southeastern Mills team to review the project as we got it pieces together, and staying in budget while doing so
Leading up to the day of filming, our team quickly developed a full script for five Southeastern Mills leadership team members, including the CEO. We used a collaborative approach internally and with our Southeastern Mills contact, and offered alternatives for the areas deemed necessary. The script was then reviewed and approved by their leadership team, and finalized for filming.
On the day of filming, we took multiple takes of each person's script in order to have options to clip and piece together to create a seamless video with no hiccups. Because we were on such a tight timeline from start to finish, we pursued an iterative review process for the speaking parts of the video. We were able to provide cuts for review as sections became ready in order to speed up the process. By not waiting until the entire video was complete to start reviewing, we were able to complete it within two weeks after filming day.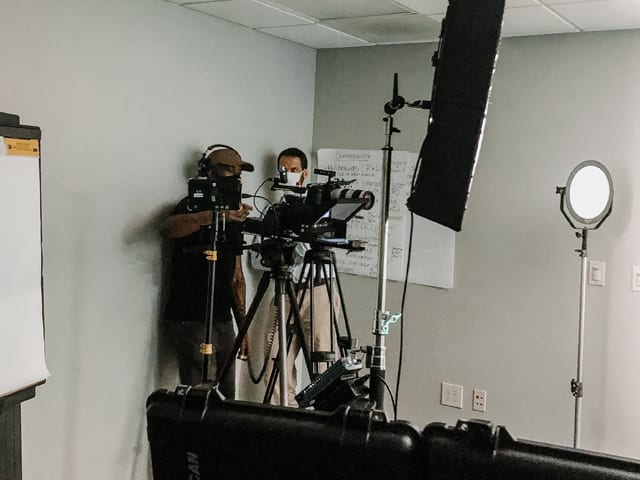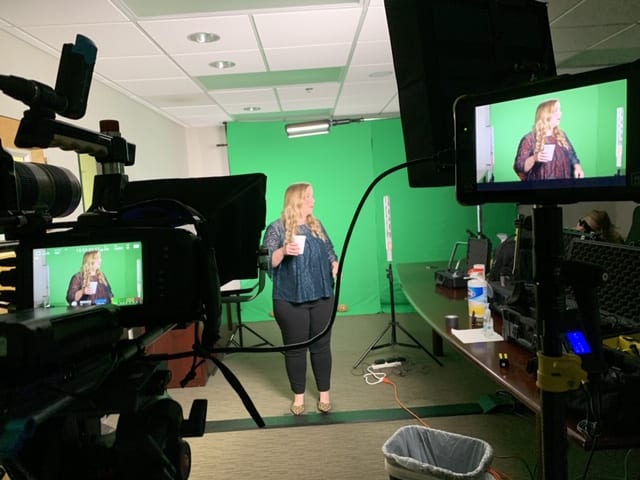 After collaboratively developing the script and gathering supplies needed for filming, Overtone's team traveled to Rome, GA to Southeastern Mills' headquarters to conduct our day of filming. One by one, each team member came in to film their part of the video by reading their script on a prompter. We took clips from many different takes and pieced them together, along with the timeline video and a dramatic name change transition, the full 6-minute long brand launch video for Southeastern Mills (now Summit Hill Foods) to share internally. We then created a second video from the first minus key internal information for the ability to share externally via news and social media. We used our team's skills of brainstorming, collaboration, video production, graphic design, copywriting, and script production to quickly and efficiently make this company's dreams become a reality.
If your business is in need of a video that effectively tells a process story we would love to hear from you. Contact us at video@overtoneagency.com, give us a ring at (678) 487-8022 or fill out the form below.