Pinterest is one of the most profitable social media channels that there is to work with! Let us help you take away the confusion in utilizing Pinterest Ads.
Ad Types
Ad Sizes
Objectives
Steps for Creating a Pinterest Ad
Tracking Results
Our Recommendations

Among all of the social media platforms today, Pinterest is unique because of its main objective - inspiration and new product discovery. As it is set up in a blog format, Pinterest gives advertisers the perfect spot to convert users into customers. Through certain types of ads that Pinterest offers, brands can double, triple, or even quadruple their conversion and ROAS.
In this guide to Pinterest Ads, we'll cover everything that you need to know about advertising on Pinterest, from the basics to recommendations that we have found tried and true.
Brand Awareness
The goal is to have your pin seen by as many relevant users as possible. Brand awareness campaigns are charged as Cost Per Metric (CPM). We recommend standard ads, or standard and max-width videos.
Video Views
Campaigns to get video views also have the goal of having your pin seen by as many relevant users as possible, similar to Brand Awareness. Video campaigns are charged for impressions.
Consideration / Traffic
Consideration and Traffic campaigns seek to drive traffic to your website. Though all objectives give you the option to do that, this style of campaign charges as pay-per-click.
Conversions
Conversion campaigns drive people to take a particular action on your website, for example, creating an account or adding an item to the cart.
Catalog Sales
This type of campaign creates shopping pins to promote specific product inventory.
Pinterest offers several different types of ads that give unique values in order to reach certain campaign objectives. One of the most important practices from advertising on Pinterest is to use the specific ad format that meets your campaign's goals. Whether its to get visitors to your website, promote brand awareness, or drive users to take action, there is an ad solution to fit your need!
Standard Pins

They look exactly the same as a regular, non-ad pin, although they say "Promoted By" next to the company name. They show up in a feed as any other pin does.

A vertical or square static image
Offers the opportunity to have a longer description for text

Video Pins

These are usually more eye-catching while scrolling through a feed. The recommended length is six to fifteen seconds per video, and you can use sound. But remember, not everyone browses with sound.

Standard format vertical video pin or a wide version. The maximum width ad is four times bigger, meaning that the square spans two columns
Auto-play in the home feed
Investment is higher but could be more effective

DID YOU KNOW

Video pins are quickly moving up the ladder to become the most popular type of pin and the most successful type of ad

Idea Pins

Also known as "story pins". Add multiple videos and images to flip through the "pages" as If you are scrolling through Instagram Stories.

Make great "how-to" guides
Mostly used for educational purposes
Add music, voice overs and detail pages for specs, recipes or instructions

Carousel Pins

Looks the same as standard image pins, but swipe to reveal the next images.

Between two and five images
Your company name will have "Promoted By" next to it

Shopping Pins

Users can click through the pin immediately to make a purchase.

Products must be directly imported from your product catalog

Collections

Data-rich pins that appear as one large hero image or video, with three smaller assets below them. Users tap to expand into a full-screen display which then can show up to 24 "secondary" items.

These only appear in the Pinterest mobile app
2:3 Aspect Ratio
(1000 x 1500 pixels)
---
1:1 (square) or
2:3, 4:5, or 9:19 (vertical)
---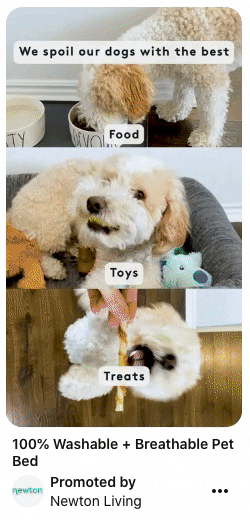 1:1 (square) or
16:9 (widescreen)
---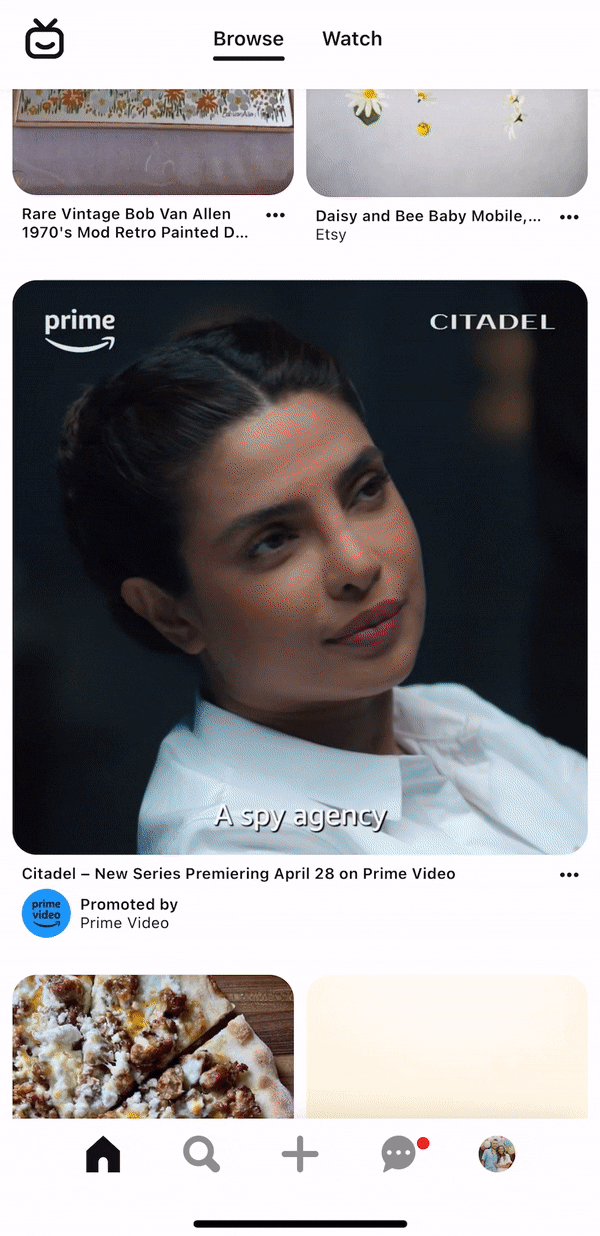 ---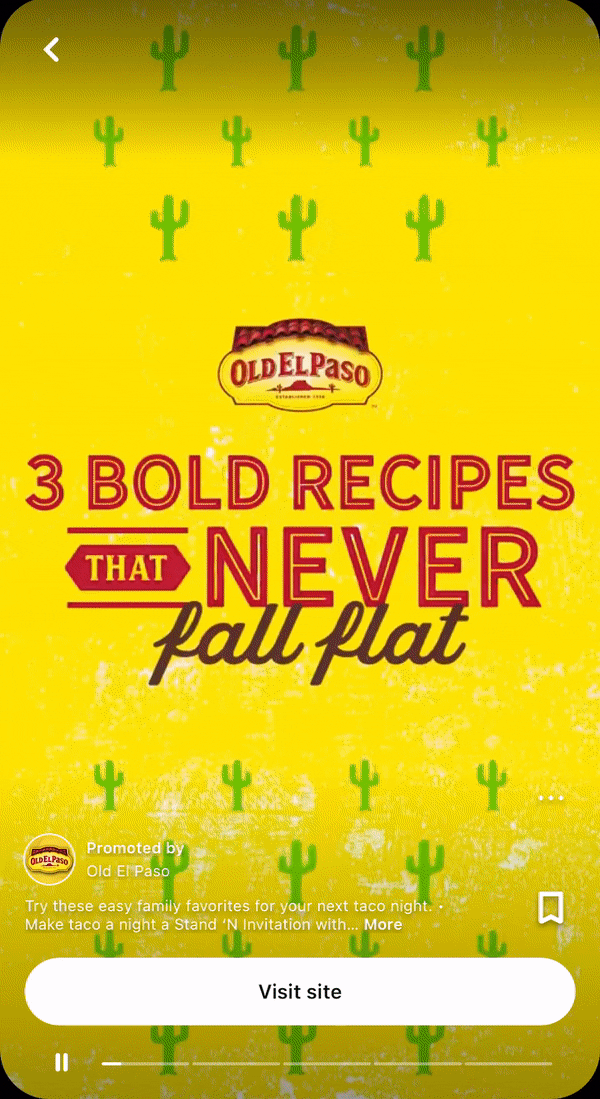 ---
---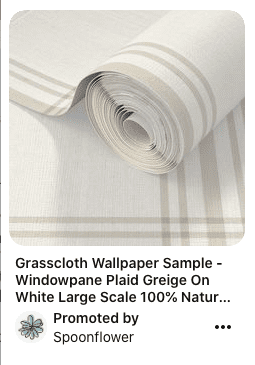 Static Image: 1:1 (square) or 2:3 (vertical)
Video: 1:1 (square) or 2;3 / 9:16 (vertical)
---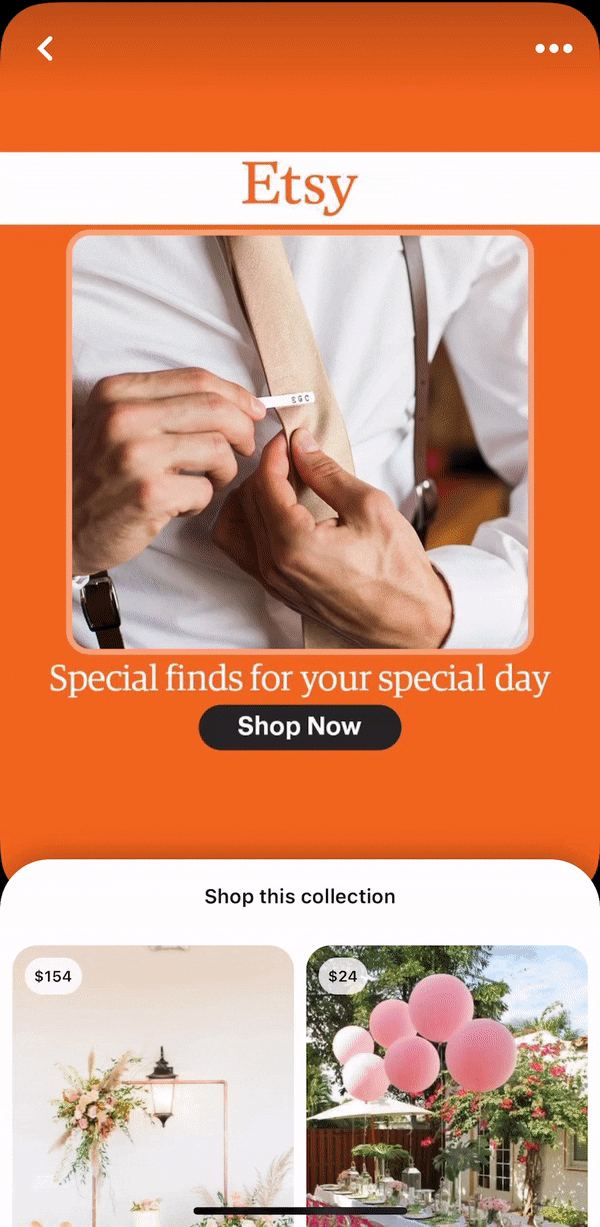 Steps for Creating a Pinterest Ad
---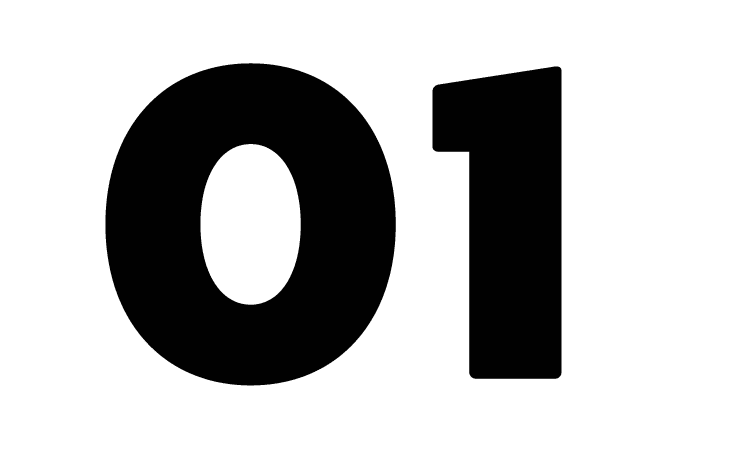 Choose an objective
This will define what you want to get out of the campaign and how you will be charged.
In this section, you will also name your campaign, set a budget, and an ad duration length.
You can always add new ads to an old campaign. For example, all brand awareness ads should be under a "brand awareness" campaign
---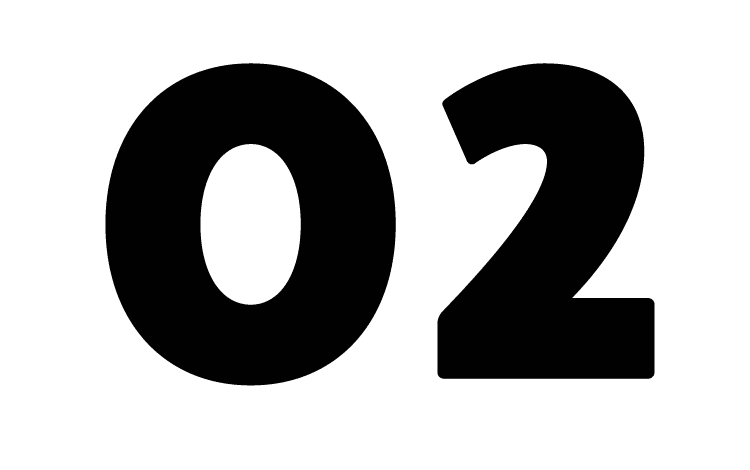 Set your criteria - creating an ad group
You can have multiple ad groups under a campaign, and many ads under each ad group
Ad groups determine the schedule, targeting, and a more specific budget.
---
Targeting
You can focus on reconnecting with people who have already interacted with your brand, or instead, you can seek to find new customers
Target audiences work like facebook's custom audiences
You can use any combination of basic demographic criteria - such as location, language, gender, ages, and devices
---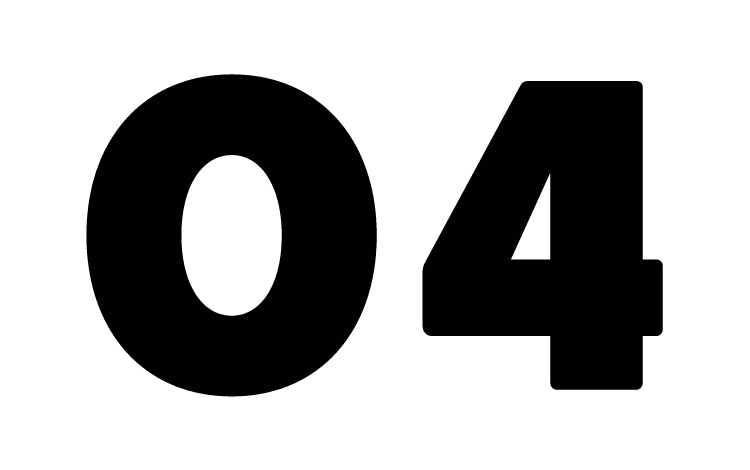 Interest Targeting affects where your ad shows up for browsing placement
Select interests that are actually related to the ad you are going to select
---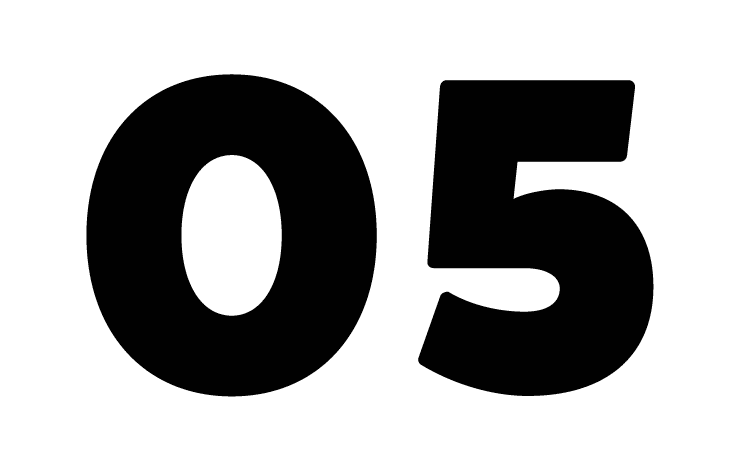 Targeting
This will determine which series your ads appear in.
Users who are searching are generally far along in the purchasing cycle
At the bottom of the section, you'll see the option to set a frequency target and cap. The frequency target is the number of times you want users to see your ad on a weekly or monthly basis. The cap Is the upper limit for monthly views.
---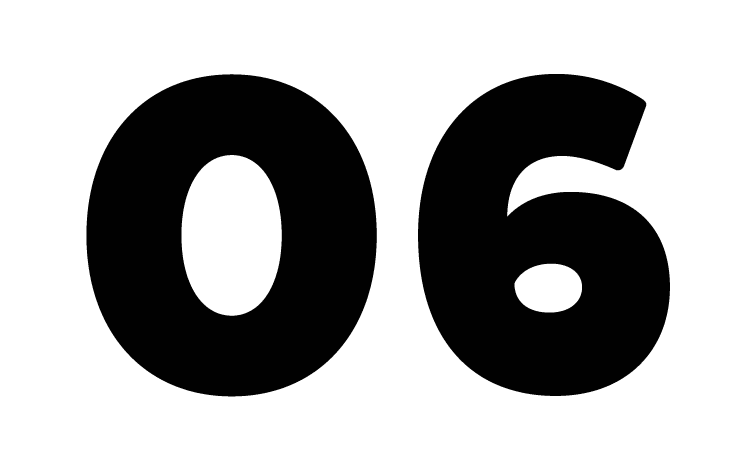 Optimization and delivery
You'll either let Pinterest automatically bid on your behalf to get the maximum impact for your budget, or you can set a target rate per-action.
For example, if your goal is awareness, you can set an amount to spend per thousand impressions
---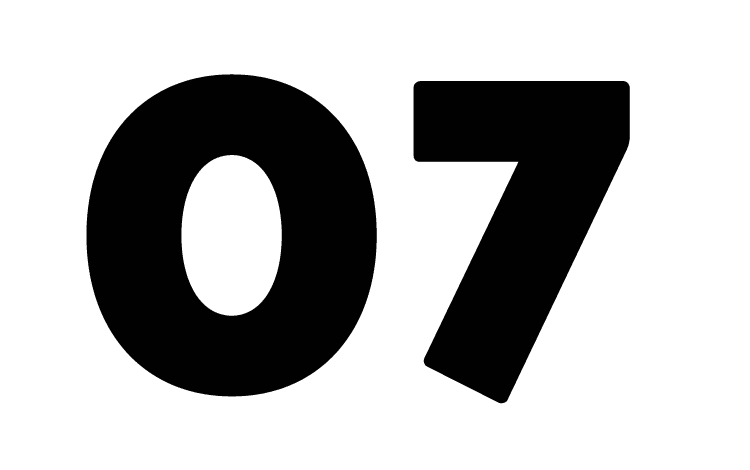 Choosing a pin
This will be what users see as a promoted pin. You have three options for picking the right pin for your ad.
Use Pinterest's analytics to help you decide by locating your top-performing pins. (Sort by either 'most saved' or 'most clicked-on)
Strategically create new pins
Opt for a content-based approach (recipes, instructions, etc.)
---
Be on the lookout for these keywords in tracking your metrics.
The number of times your pin shows up in a feed, search, or category results.
The number of times someone saves your pin to a board.
The number of people clicking on your pin, though this doesn't mean that they necessarily clicked through to your website.
The number of clicks from your ad content on or off Pinterest, divided by the total number of times your ads were viewed.
A high click-through rate is a good sign that users find your ads helpful and relevant.
The average cost per thousand impressions, or CPM, ranges from $2.00 - $5.00. The average cost per click, or CPC, ranges from $0.10 - $1.50. For both of these, the lower the number, the better the ad is performing.
The total amount of money that you've spent on an ad campaign during the reporting time period.
TRY IT ALL
Test different strategies, pins and even targeting options (such as keywords). You can create multiple ads under a single ad group or campaign and you can duplicate past campaigns to make changes. Test specific factors to see how they affect your results!
Skip hashtags
Pinterest is already a giant search engine, so hashtags don't matter.
Choose your landing page carefully
Send users to the thing that they want to see!
Install a conversion tag
This helps you know what users do after they click on an ad.
Be intentional about your description
It's better to offer shorter explanations to what the value Is rather than just stating what the product is.
Use video
Videos automatically play and there are not a lot of them In the grand scheme of pins, so it'll automatically stand out!
Don't shorten links
They will often give users a spam alert.