Los Angeles Dine Around Map
Services Provided
Graphic Design, Copywriting
Discover the Problem
Our client had arrangements to host one of their customers in Los Angeles, California. Since they are in the foodservice industry, they came to us with an idea to take their customers on a tour of different cuisines throughout the city. They wanted us to create a map that could be used for this tour.
Define a Successful Outcome
After doing research to find suitable restaurants and their locations, we were to design a map that would creatively display each featured restaurant around the city. It is ideal to display in a way that is easy to read and helps navigate streets while telling the customer what they are to expect.
Create Options
Southeastern Mills is a fourth-generation food company that offers a wide range of ingredient solutions for food processors, foodservice companies, and consumers. In order to broaden their exposure and strengthen their palettes, they often visit restaurants outside of their norm. By having us create a map of restaurants that gives a variety of cuisines and culture options, they are able to dine around the city while doing just that. Our team gathered a list of restaurants and design options to feature. Out of the handful of shapes, styles, and sizes we presented, the client chose the 3-column foldable brochure in one of three designs.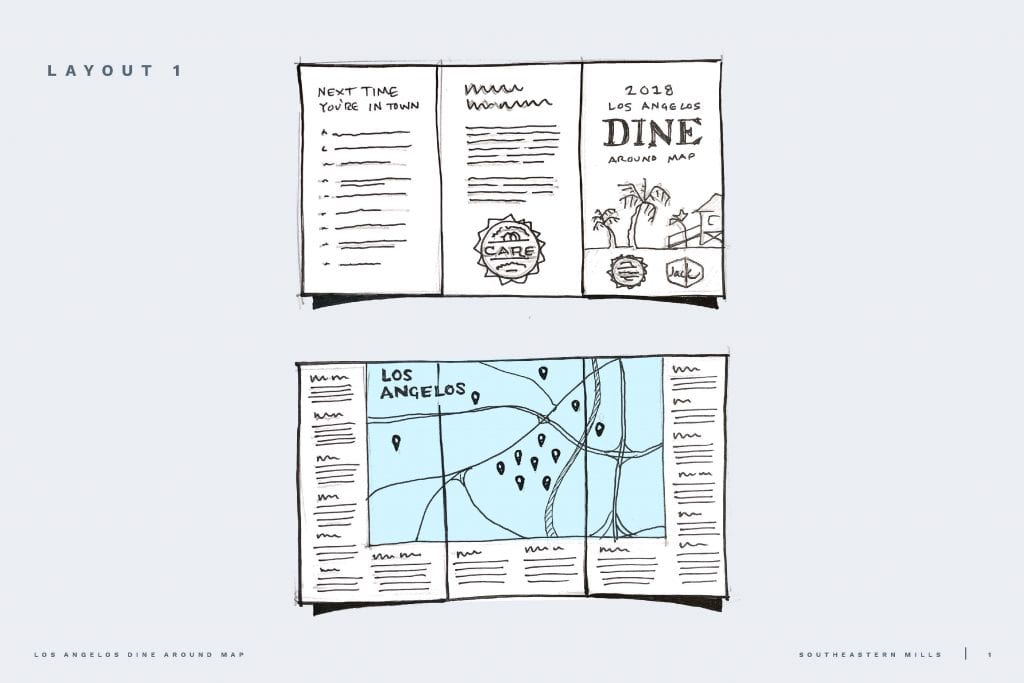 Activate Results
We designed a line-drawn map with icon elements, within our client's brand guides, and listed fourteen restaurants around the map. Marked with icons are key landmarks that they will be able to use to help navigate the location of the restaurants.